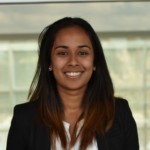 Savita Sharan
Savita is an alumna of ­SUNY-ESF, who graduated magna cum laude with a B.S. in Environmental Studies focusing on Environment, Communication and Society and a minor in Management in association with Syracuse University. The Malaysian naturalist currently works in Sacramento, California as an energy consultant for a solar sales and consulting firm. Her time at ESF sparked her interest in renewable energies. As such, in the future she plans to work on the research and development of renewable energies in southeast Asia and parts of Europe.
Staring at blank faces while I speak
they're like walls, plain and blank and even without interest;
now I'm frustrated and careless but flabbergasted nonetheless
as my tone it gets higher, the pace, it gets faster
but I stumble as many do when trying to provide
all the evidence in one sitting, too much to say
we could be here all day arguing and debating
you pedal your misinformation and poppycock statements.
In my confused rage I revert into a prehistoric disposition
grass is good, water is good, man can make fire but man cannot burn everything.
I feel my blood boiling so I close up and give in
while I stand and hear his rebuttal but refuse to listen,
I fear this is how every naturalist is treated
a hippie, an extremist, a tree hugger, and yet we live to fight this battle.