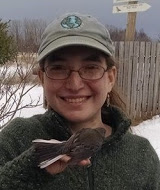 Rebecca Rolnick
Rebecca is a sophomore with a major in Conservation Biology and plans to minor in Environmental Writing and Rhetoric. In the future she hopes to do work that protects biodiversity and connects people with nature.
The secondary rain shower
trickles from the leaves of the
honey locust
where I ran, refreshed
by crystal drops
that cascade,
catching the light
of the sun
in the dawn after the storm.